聖杯2 芭芭拉沃克塔羅
From The Secrets of the Tarot:Origins, History, and Symbolism by Barbara G. Walker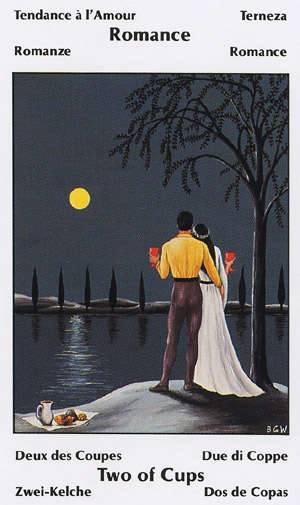 Lovers came to be regarded as "couples" after pledging their troth in cups (French coupes). So in the Tarot, a pair of cups naturally suggested a male-and female pair committed to each other by a sexual romantic bond like the drudaria celebrated by medieval minnesingers.
The common people never tired of these troubadours' love songs, even though church authorities condemned the songs as heathen and sinful (because they were dedicated to the Goddess), and tried to forbid them by law.1 Some of these songs, still extant, describe the minstrel's power to turn people away from the church, and make them forget the priests' teaching, that love must be equated with sin.2 Churchmen insisted that God would punish lovers in hell, with eternal roasting over fires fed by their earthly passions.3 Yet the romantic poets, indirectly inspired by Eastern Sufis and Tantric sakhakas, strongly hinted that man's spiritual fulfillment must be sought by the path of sexual love.4
Minnesingers were supposed to know of certain secret places formerly sacred to the Goddess grottoes, groves, hidden temples---where lovers could hold their trysts without fear of discovery.5 These were sometimes identified with the earthly paradise called "terrestrial place of pleasure" ( locus voluptatis terrestris) or "paradise of joy" (pratum felicitatis).6 Spencer's Fairie Queene presided over such a Bower of Bliss, centered on the feminine Rose of Love, a sexual symbol much revered by the bards' Arabian precursors, who called the sexual paradise a holy Rose Garden.7
Love songs were "romans" in southern France, home of the heretical courtly-love movement later extinguished in the bloody Albigensian Crusake. Love affairs came to be called "romances" because they were celebrated by the poetry of this movement. A typical poem was the medieval romance of Aucassin and Nicolete, star-crossed lovers thwarted by ecclesiastical guardians in all their efforts to unite. Aucassin, who was really a Western version of the Arabic "prince of lovers," AlKasim, renounced the teachings of the church and declared that he would rather go to hell with his beloved Nicolete than to Heaven with the "halt old men and maimed" of the Christian community. At last, he and his sweetheart were united in the pagan paradise, a fairyland called Torelore, where love was encouraged instead of condemmned.8
Like romance literature, the Tarot card sets lovers in an isolated place, hidden from all but the Moon Goddess who kept their secrets. Meanings assigned to this card include trust, sympathy, consummation of desires vows, promises, engagements, marriage, and intimated friendship. When the unified concept of Love (as in the ace) becomes a duality, all permutations of active partnership are suggested.
......